Round Four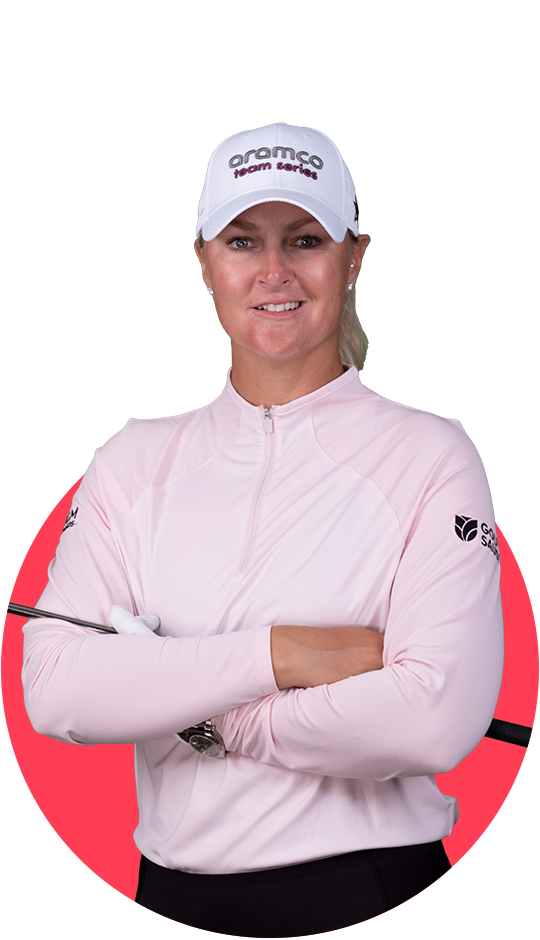 3

Pros
1 Amateur


26

 teams


$1M

prize fund
The Format
26 teams of 4, battling it out over two days to become the fourth Aramco Team Series champions of 2022. Using a unique scoring system, and allowing an amateur to contribute to the final result of a professional tour event with a total prize fund of $1m, the Aramco Team Series, continues to bring a new level of excitement and entertainment to the Ladies European Tour.
Updates To Format
In 2022, the team event will be held over two days, with individuals making the cut for a final shoot out on the 3rd day
2021 WINNERS
Jessica Korda, paired with Ladies European Tour stars Karolin Lampert and Lina Boqvist, along with Golf Channel journalist Alexandra O'Laughlin took the team victory on the second playoff hole against Team Popov at Glen Oaks Club under the floodlights. Meanwhile, Charley Hull shot a bogey-free 7-under par on the final day to secure a 1 shot victory over world number 1, Nelly Korda in the individual event. 
Event info
More
More details


About the event
The Venue

Welcome to Trump Golf Links at Ferry Point

Set to host the first ever professional golf event to be played in one of the five boroughs of New York City, the award-winning links style course...

Welcome to Trump Golf Links at Ferry Point

Located in the heart of New York City, Trump Golf Links at Ferry Point is home to an award-winning 18-hole, Jack Nicklaus Signature Design course, providing championship golf and spectacular views of the Manhattan skyline


01

Designed by Jack Nicklaus as a world-class public golf experience, Trump Golf Links at Ferry Point is regarded as one of the "Top 100 Courses You Can Play in the United States" and "America's 100 Greatest Public Courses." Its rolling mounds of golden fescue bordering 7,407 yards of pristine tees, fairways and greens, are what make it an incredible design and an award-winning destination.

02

Offering luxurious amenities and waterfront views, the 20,000 square foot clubhouse greets golfers in stunning fashion. Designed by highly-regarded architectural firm, Hart | Howerton, the clubhouse provides guests with the atmosphere of a private club by featuring the Waterfront Restaurant, beautiful outdoor verandas, state-of-the-art locker room facilities, a premier golf shop and spectacular views of the Manhattan skyline, East River and Whitestone & Throgs Neck Bridges.

03

Located just minutes from midtown Manhattan, Trump Golf Links at Ferry Point is the only championship golf course in New York City.

" A test of golf fitting of any tournament or championship "

Spectators

Everything you need to know

We are looking forward to welcoming you all to Round Four in New York. See below for all the information you need for coming along

Everything you need to know

Round Four of this year's Aramco Team Series is delighted to offer the chance for spectators to come on-site and experience the world class golf being played in a unique format. 

From just $5 for a day or $10 for a season pass, get your tickets now. 

For those visiting during event days, please see the information below. 

WHERE TO FIND US

Host Venue

Trump Golf Links At Ferry Point

500 Hutchinson River Parkway, The Bronx, NY 10465

Travelling By Car?

Take exit 18 of I-678 and follow signs for Ferry Point Golf. Within 25 minutes of Brooklyn, Queens, and Manhattan, the event is easily accessible from many areas of New York.

Parking 

Parking is available nearby with a shuttle service being run to the course from the designated parking. For the exact parking location please see the map below. 

Tickets must be shown upon parking to gain access to the shuttle service which will take less than 5 minutes to the course. 

Taxis

A designated drop-off and pick-up location area is available at the venue

More Information

Tee Times

For the first two days the first tee time is at 08:40, final tee time at 10:40. 

Play will commence from tees 1 and 10 and is expected to finish around 4:30pm. 

Spectator Access

Spectator gates open at 07:30 with gates closing at 19:00. 

 
s